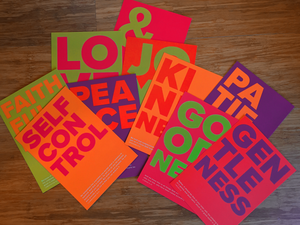 EXTRA BOLD FRUIT | with Scripture | Set of 10
Sale price Price $20.00 Regular price
Can't decide? Then get this set of 10 which includes all 9 words with Scripture and the best part: the ampersand. Besides, it's the best deal and who doesn't like a good deal? 
This series of words comes from Galatians 5:22-23: But the Holy Spirit produces this kind of fruit in our lives: love, joy, peace, patience, kindness, goodness, faithfulness, gentleness, and self control. Send them out to inspire someone or give the whole set as a gift. Or, shhh, keep them for yourself. 

Be loud. Be bold. Be extra bold. Send a message with oomph!
* * *
DETAILS: 
Includes all ten words as a set

5x7 flat, thick postcard-style card
Includes envelope for mailing
Beautiful saturated color. Back of card is blank with dotted lines to write your extra bold message of encouragement.
Also great for framing, gifting or keeping for yourself (We won't tell.)